This article has been translated from Japanese, relying on machine translation. I'm sorry if there are any mistakes or confusing parts in this article.

I pre-ordered it at the same time as the announcement because I couldn't (or didn't want to) test it out under the new coronavirus pandemic anyway.
I bought the Yamaha YDS-150 digital saxophone.

When I saw the news of its release, I thought, "It's finally here!"
Normally, I would try it out at a music store before buying it, but after all, we live in a corona world, so I couldn't test out a wind instrument. Even if the music store was okay with it, I wouldn't like it.
So, believing in Yamaha, which has made many silent instruments, I made an immediate reservation and got one.
To conclude first, I wanted an instrument to practice on, and for me it was exactly what I expected. It is an electronic instrument that is as saxophone like as possible.
It's not a wind synthesizer, it's definitely a digital saxophone.
And, most importantly, if you put earphones on, you can play without sound. It's very important, so I'll say it again: you can play in silence.
No, of course, you can hear the woofing of breath and the clinking of the keys, but the reed is a dummy and doesn't vibrate, and the tone of the instrument is completely digital, so I think you can call it silent.
The Wind Synth wasn't a digital saxophone.
I used to play the saxophone, and I still want to, but wind instruments are so loud that I have to go to a studio or karaoke box to practice them.
I don't mind going to a studio to practice my mouth and tongue, but I'd rather practice the melodies and phrases of my fingers at home.
I also bought a saxophone soundproofing device (e-sax) and a wind synth (WX-5 or EWS) to see if I could practice at home.
None of them were bad products, but they didn't suit me.
The soundproofing device was heavy and didn't muffle enough sound to play at home.
The wind synth was still a synthesizer, and it was different from the saxophone.
For example, both WX-5 and EWS seem to use a pressure sensor to detect the breath, but I was very tired because I had to keep the pressure high all the time while I was extending the sound.
With the analog saxophone, the high air pressure is only needed at the beginning and it doesn't take much effort to continue the sound once it's made.
Also, the fingering was slightly different. Especially with the EWS, the keys were touch-sensitive, not mechanical switches, so it was impossible for me.
No, of course I know that there are a lot of people who are playing great music with these instruments. This is not a bad thing, I'm just saying that it wasn't for me.
That's why I gave up both the WX-5 and the EWS.
After that, I even made my own saxophone practitioner.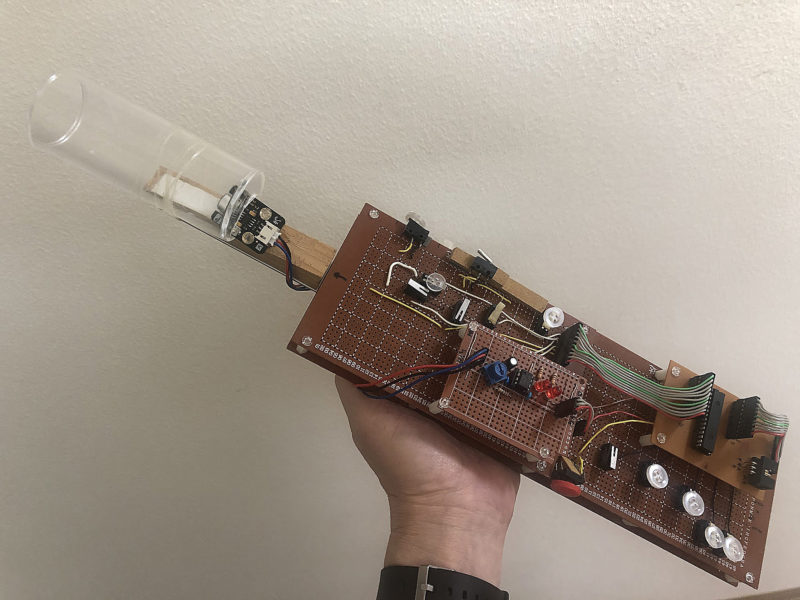 It looks ragged, but the key layout is completely the same as the saxophone, and since I used a voice switch, I could sing a phrase by myself or just blow lightly to get the sound.
It doesn't take volume changes or vibrato, but as a machine dedicated to finger practice, it's very good and I used it all the time. It's still in use. I hope to write an article about it soon.
Even if it's a dummy, a lead makes all the difference!
Then, in 2020, the YDS-150 suddenly appeared on the scene.
One of the main features of this instrument is that it has a mouthpiece and reed that looks exactly like an analog saxophone.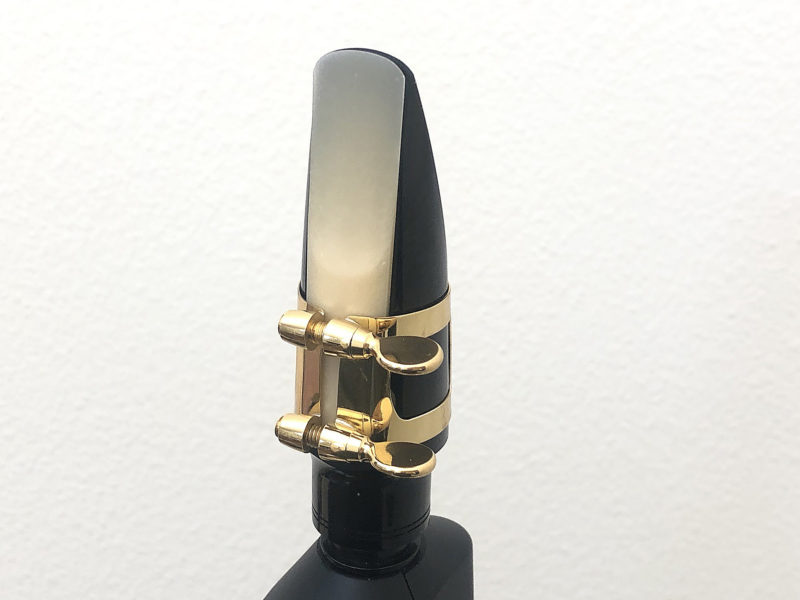 The reeds are plastic, but they are properly secured with a ligature and can be replaced.
However, they don't vibrate, so they don't have a direct effect on the sound, but it makes a big difference if they are not there.
The reed makes the tangling sound just like an analog saxophone, which makes the blowing feel very realistic.
Also, although the YDS-150 is probably also using a pressure sensor, I don't feel as breathless as before, and the maintenance of long tones after the sound is produced feels more natural than the previous wind synth.
The tone changes between tangling and slurring.
From the sensor to the sound source and its control, I think it's probably a fairly complex process to create a realistic saxophone feel.
This is a product that feels like Yamaha has really made an electronic saxophone.
I had trouble finding a place to put it, so I made a stand.
The YDS-150 is similar in shape to a soprano saxophone and stands on its own, with the bell down as it is.
However, it is a bit unstable because of its heavy center, which is packed with electronic components.
You might be able to use a stand for the soprano saxophone, but as a robot vacuum cleaner user, I'm not a fan of the three-legged stand.
However, if you put it away in a case, you won't be able to practice. I decided to make my own stand by 3D printing.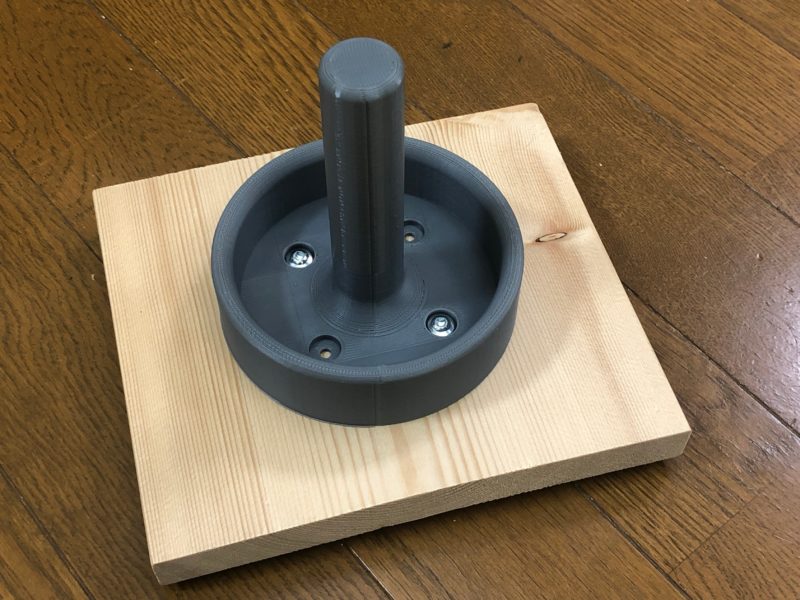 The only thing we make with 3D printing is the framework, and we put a cushioning material on it.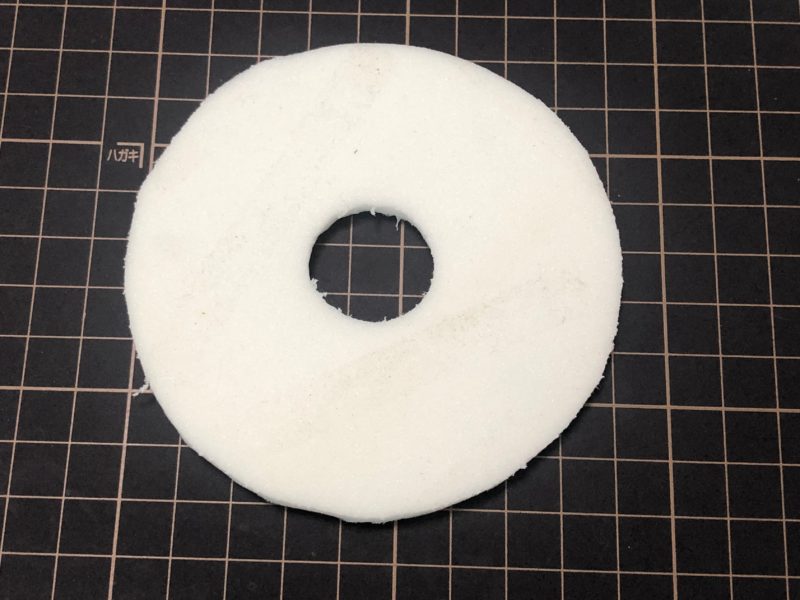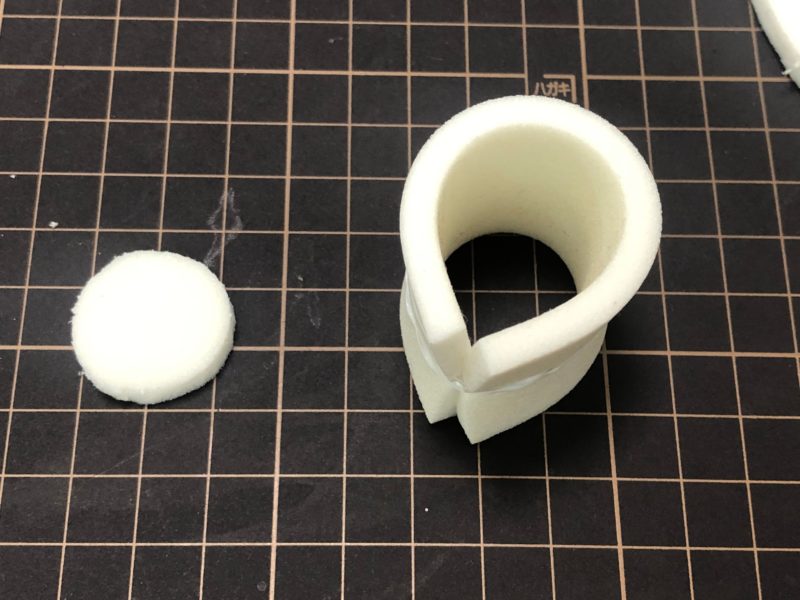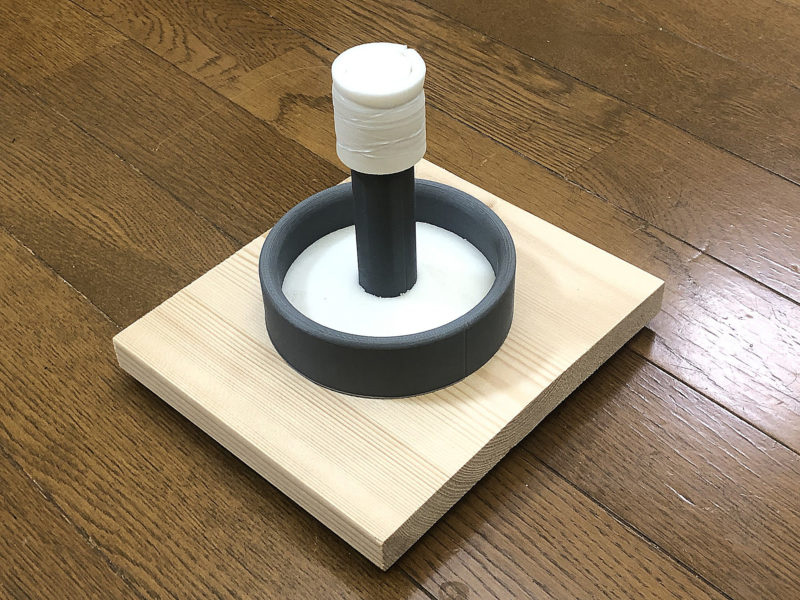 Depending on the 3D printing material, the bell may be scratched. If you try to make it, please do so at your own risk.
This is then screwed to the base board (1x8 scrap wood) to complete it. It was completed in a rather short time.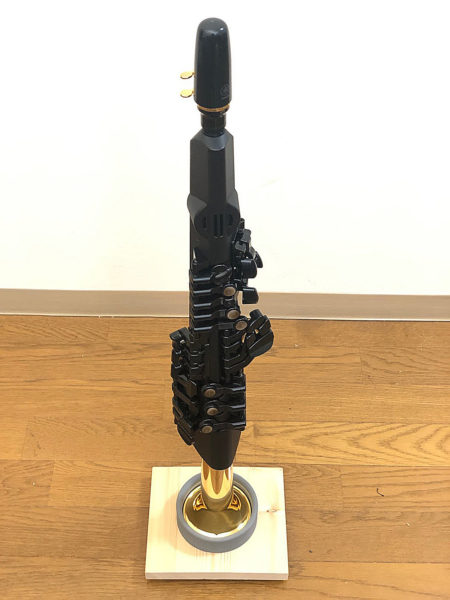 A different design may be possible, but I think I'll use it for now.