This article has been translated from Japanese, relying on machine translation. I'm sorry if there are any mistakes or confusing parts in this article.

Stabilize with a homemade vertical stand
It is long ago that I made it, but I introduce the 3D printing which is quite useful.
It is a vertical stand for Caldigit TS3 plus which expands the PC which has the Thunderbolt3 port to the fullest. TS3 plus can be placed vertically as it is, but when a lot of cables are connected, because it is not stable, I have stabilized it with the stand which is made with the 3D printer.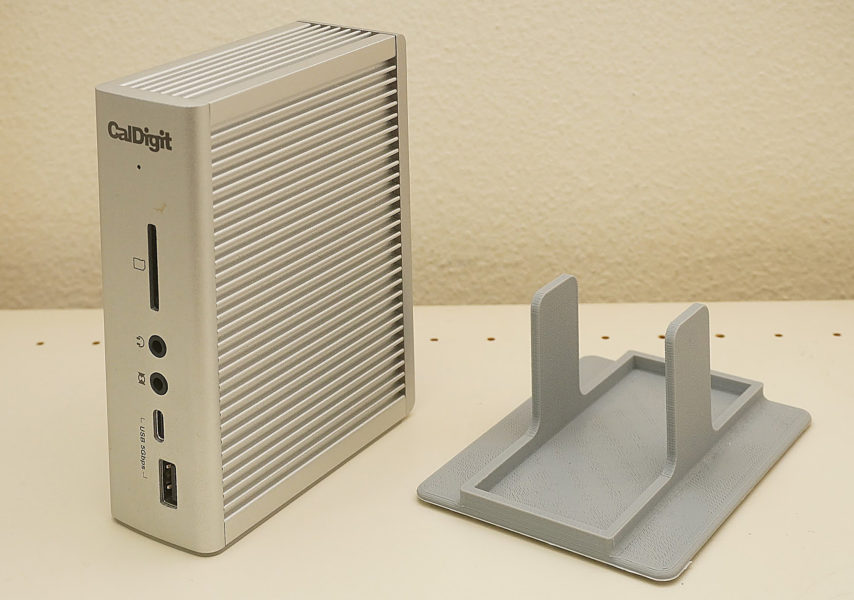 You can see the STL data on this stand, and I'm sorry if it doesn't fit with the size of 3D printer.
The TS3 plus was fine with PLA for the material, although it gets decently warm when used to full capacity.
It's better to put a non-slip sheet on the back.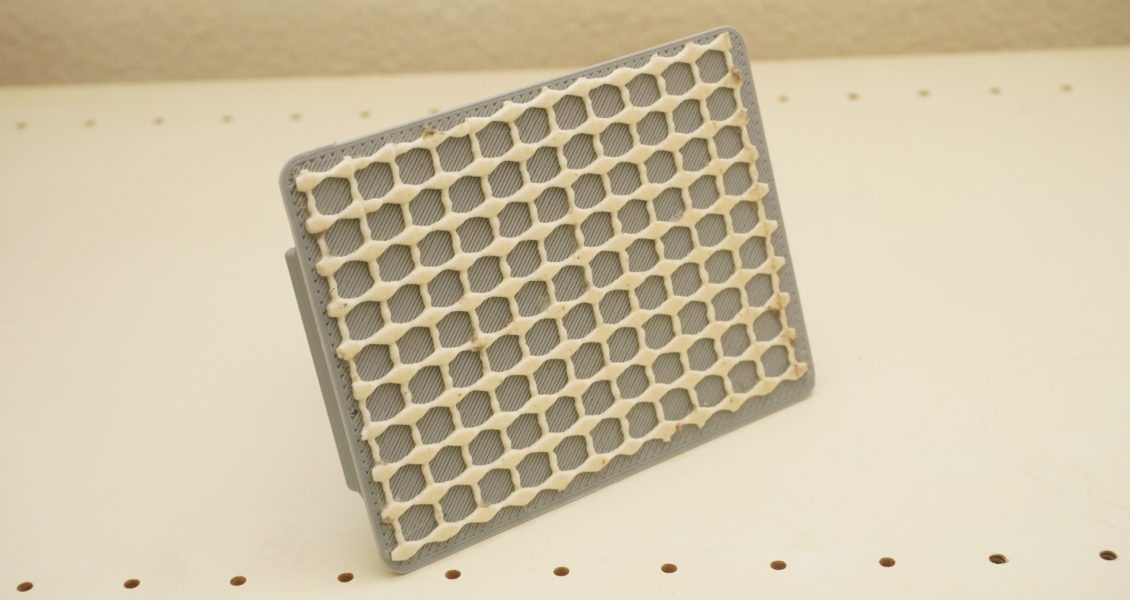 The 3D printer is very useful for making custom stands and brackets like this anyway!
The All-in-One Thunderbolt3 Dock
Two years ago, I replaced my longtime MacPro early 2008 with a MacBook Pro 15", and the CalDigit TS3 plus was the deciding factor.
As you can see from the picture, it has many ports. There is a wired LAN and card reader, 10 Gbps USB, 4K 60Hz to a monitor, and a Thunderbolt hub, and an 87 watt power supply.

It is extremely convenient for the person who uses MacBookPro in the desktop because only one Thunderbolt3 cable can connect and supply power to this much peripheral devices.
Because I have many peripherals, the number of ports was a problem when I changed from tower type to notebook, but when I saw the specification of this product, I bought it at the same time immediately.
Also, products with great specs are often in trouble, but TS3 plus has been stable from the beginning.
It's been two years, and I don't think I've seen another dock with this many features.
Also, I made a special bracket to fix the huge AC adapter of TS3 plus.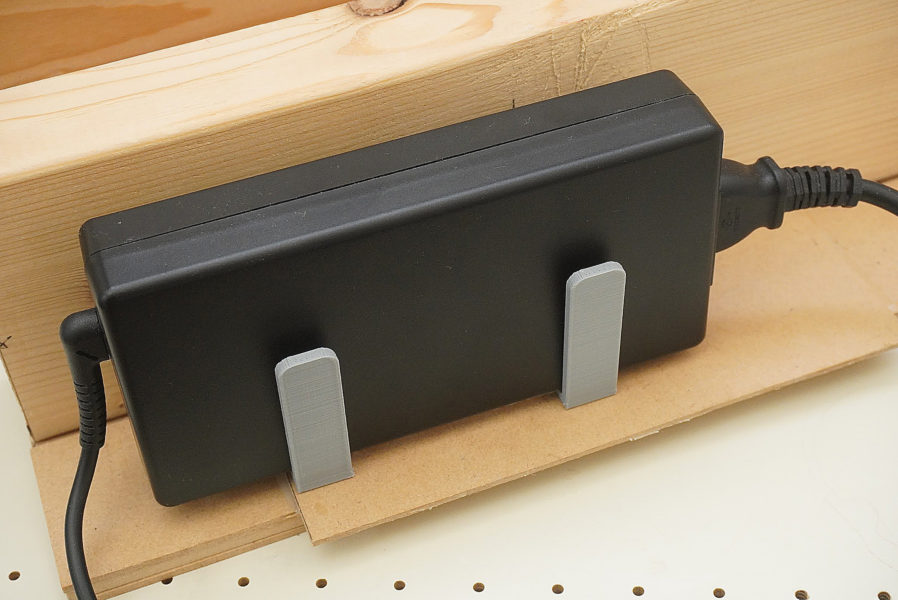 I separated the power supply and port expansion, so now I use the QGeeM 12 in 1 USB C hub
This is such a great TS3 plus, but I'm not using it as of November 2020.
I decided to separate power supply and port expansion because I got battery swelling due to leaving the power on with my MacBookPro.
Unfortunately, TS3 plus seems to be unable to separate power supply and port expansion. I wonder if there is a Thunderbolt3 cable without power supply. If there is, it is good.
Because I have no other choice, I attach the port expansion dock of the bus power type, and power is supplied from the genuine AC adapter.
The expansion dock I use is the "QGeeM 12 in 1 USB C Hub" with Ethernet, Displayport, and a card reader. You can power it, and it can also run on bus power.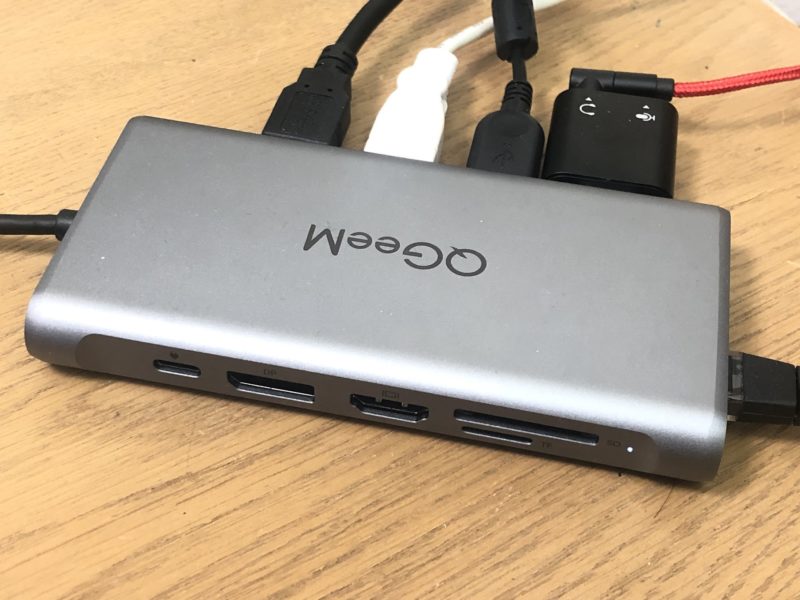 I used a USB-C > DisplayPort cable and the monitor was directly connected to MacBook Pro.
Even though I have a direct connection to the MacBook Pro, I have a problem with the 4K monitor sometimes going to 30Hz when the Mac comes back from sleep. It returns to 60Hz on reboot. Other than that, there is no problem.
I heard that the battery expansion problem can be solved by upgrading the OS to the latest version, but when I upgraded another MacBook Pro to Catalina, it was very unstable, so I think I'll use Intel Mac with Mojave for the time being.
I'd like to use it on an M1 Mac!